Spooky Print Midi Dress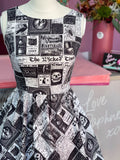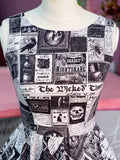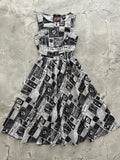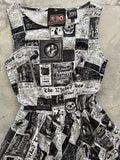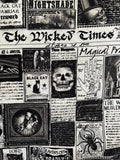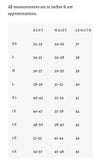 Introducing the Spooky Print Midi Dress, a hauntingly unique style that combines fashion with a touch of macabre charm. This dress is perfect for those who love to make a statement and embrace the darker side of style.

The standout feature of this dress is its captivating newspaper print, adorned with macabre articles that will send shivers down your spine. From chilling tales to eerie headlines, the print showcases a collection of spooky stories that will intrigue and fascinate. Each detail adds to the dress's mysterious allure, creating a visual narrative that sets it apart from the ordinary.
Designed in a flattering midi length, this dress exudes both elegance and edginess. The fitted bodice accentuates your figure, while the flared skirt adds movement and grace. Made with attention to detail and high-quality materials, this dress offers a comfortable and stylish fit, allowing you to embrace your unique style with confidence.
The Spooky Print Midi Dress is a versatile piece that can be dressed up or down for various occasions. Wear it to themed parties, Halloween events, or even for a night out where you want to make a bold fashion statement. Its macabre print will surely make you the center of attention and spark conversations wherever you go.
With its striking design and captivating print, the Spooky Print Midi Dress is not just a fashion choice but also a piece of wearable art. Embrace the darker side of style and let your outfit tell a haunting tale.
High neckline
Full and longer skirt
Pockets 
Zipper opening in the back
100% cotton
Made in USA
Fit information: True to size
Please scroll through images for more pics and relevant size chart. 
We are pleased to offer free standard shipping Australia Wide on all orders over $149 through Australia Post. All orders will be posted the next business day where possible.
If you have received an item that is faulty, please return the items via Australia Post and a replacement item will be shipped within 1 business day. If a replacement is not available, a full refund will be provided.
See the full refund policy here